Places Of Interest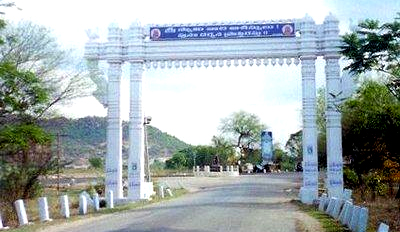 Vemulawada is a Mandal head quarters on the western part in Karimnagar district. It is located on the banks of Mulavagu Rivulet. The distance between Karimnagar town and Vemulawada is 35 Kilometers. Vemulawada was a capital city of Vemulawada Chalukyas dynasty between A.D 750-973. The remnants of the temples and statues show that Chalukyas were great architects. The greatness of Vemulawada can be inferred from ten inscriptions from the various temples41. In those inscriptions it is named as Lemulavatika, Lembulavade, Lembulavada. After the changes it is transformed into Lemulavada, Yemulada, Vemulavada. The oldest temples are located in Vemulawada in Karimnagar district.
Bheemeswara Temple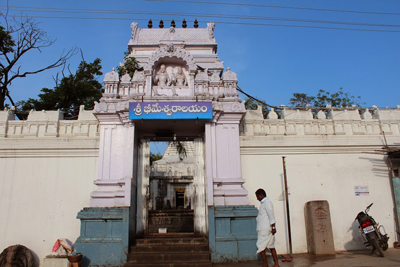 In southern India under the influence of Shaiva religion, stone temples had been the oldest and built from seventh century A.D onwards. The beautiful Bheemeshwara temple in Vemulawada belongs to 9th century A.D. This temple was known as Badhegeswara temple42, because it was built by Chalukya king Bhaddega (A.D 850-895). The parapet wall of the temple built with stone this temple shows of the greatness the sculpture of those times in Vemulawada.
Rajarajeswara temple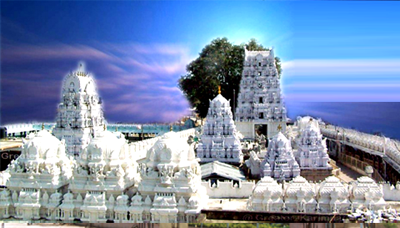 The most popular of all temples in Vemulawada is Sri Raja Rajeswara temple. The sthala purana reveals the importance of this temple. It was built by one of the governors of western Kalyani Chalukyas by name Rajadithya. An inscription dated 1083 A.D46. reveals the above information.
On the left side of Sri Rajarajeswara temple is Kasi Vishveshwara temple. The color of the lingam in this temple is tender pink. This lingam is the also called Kasi Vishveshwara Lingam. This is the reason why Vemulawada is called as Dakshina Kashi. The Anantha Padmanabha Swamy temple is located on the back side of the Sri Rajarajeswara temple. As Shivakeshava Utsavas are conducted in Vemulawada for this reason this place came to be known as Harihara Kshethram48.
Beside Raja Rajeswara temple, Kodanda Rama temple, Balatripura Sundari temple, Bala Rajeshwari temple, Vitaleshwara temple are also there. Raja Rajeswara temple is on a bund. Beside this temple there is a small pool. This is known as Dharma Kundana. There is belief that if one bathes in this pool it helps one in getting rid of skin diseases, from bad situations and sins. Two mantapas were built in this pool having Shivalingas in them. In this temple premises there is also a tomb of Muslim saint. It is a sacred place for both Hindus and Muslims
Sri Laxmi Narsimha Swamy Temple at Dharmapuri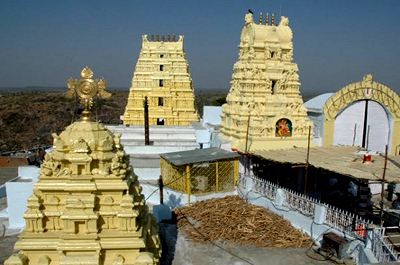 Dharmapuri, historically a pilgrim center once adorned with great poets, philosophers, Music, Art and Dance. It is one of the nine Narsimha Kshetras of the Telangana region of A.P.
Dharmapuri was called so after King Dharamavarma, (Who was a staunch devotee of Lord Narasimha), it was known earlier as Dhamaraya, Dharmapuram, Dharmmanpuram, Dhammanvuru, Dharmavura and Dharmapuram. It is famous for temples and artists, located on the banks of holy river Godavari. It is called Dhakshin Kashi. It is nearly 80 km from the district headquarters.
There are two temples (Pata and Kotta) of Lord Sri Laxmi Narasimha Swamy. In the 14th and 15th centuries after the fall of Bahamanis and Qutb Shahis, the next phase of anti-Hinduism started under Aurangazeb. His subordinates also followed in his footsteps. Rustumdilkhan, the Subedar of Hyderabad, converted the temple of Lakshmi Narasimha Swamy into a mosque96. In 1448 AD, near to the mosque a new temple was erected with sixty pillars and this temple came to be called as old Narasimha Swamy temple97. In 1725 A.D., an icon of lord Narasimha was found in the vicinity of Dharmapuri village.
Sri Kaleshwara & Mukteswara temple of Kaleshwaram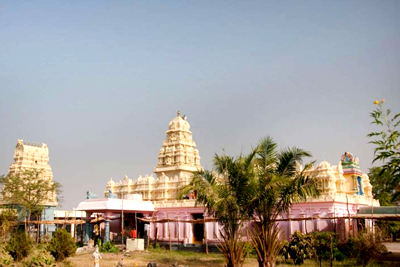 This village lies in thick forest surroundings, at a distance of 16 kms from Mahadevapuram and 32kms from Manthani at a picturesque spot where the river Godavari receives into it another stream called the Pranahitha. Kaleshwaram has many ruined temples, same of them prominent. Among these temples, the one dedicated to "Mukteswara Swamy" is the most important. Special significance is attached to this shrine owing to the existence of two Sivalingams (shiva-Kala) on one Panavattam. The Sivalingam here is considered to be one of the three Jyothirlingas of Lord Siva which constituted the three corners of , the other two being at Srisailam in Kurnool and in Draksharama in East Godavari districts
government in 1976-82 has constructed a new temple replacing the old one in the same place without disturbing the Kaleshwara-Mukteshwara Lingams in the Garbhagriha.
It is a famous Tirtha Khetra abounding in many holy temples dedicated to both Vaishnavate and Saivates gods, like Venkateswara Aalayam, Bindu Madhavaswamy Aalayam, Chandrasekhara Aalayam, Someswara Aalayam, Saraswati Aalayam, Adi Muktiswara Aalayam; Annapurna Aalayam and Balarajeswara Aalayam.
Manthani Temple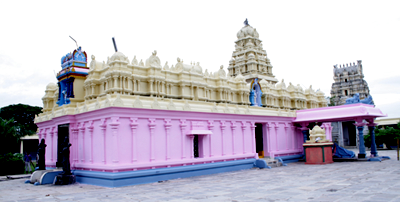 As stated in the puranas, inscriptions, the name of this village was derived from words like Mantrakuta or Manthenya. The various dilapidated temples and statues in this region tell us about the glorious history of the town which is 72 K.M away from Karimangar in the North-East side.
Many dilapidated ancient temples and statues of Chalukyas and Kakatiyas time depict the past glory of this region. It has nearly 20 temples of Sileshwara, Siddeshwara, Gowthameshwara, Kodanda Ramalayam, Gopijana Vallabha temple, Biksheshwara Varadaraja temple, Omkareshwara & Anjaneya. Eight Lingas are erected in this town. The presence of Goddess KalikaDevi statue with holy thread on her at the Government guest house in Manthani is its speciality.
Laxmi Narsimha Swamy swamy Trikutalaya of Raikal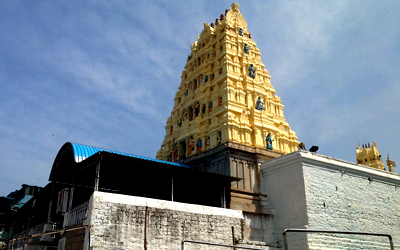 The village of Raikal is 20 km away from Jagtial. Trikutalaya of Chalukyan artistic model dates back to 11th century and was built in the temple fort on the eastern side of the Raikal Lake. This temple is presently known as Pancha Mukha Lingeshwara Keshavanadha temple. This place is still called temple fort as the temple has been housed in the fort.The Trikutalaya of Raikal belongs to 11th century with Chalukyan art style. But the Inscription of it was laid in 1305 A.D.